News today from the Heritage Lottery Foundation: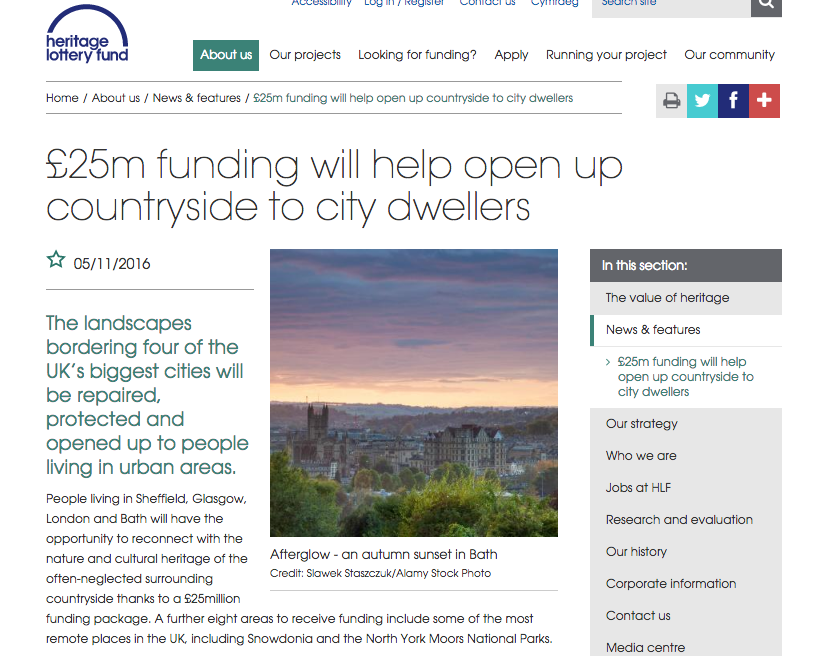 Text – The landscapes bordering four of the UK's biggest cities will be repaired, protected and opened up to people living in urban areas. People living in Sheffield, Glasgow, London and Bath will have the opportunity to reconnect with the nature and cultural heritage of the often-neglected surrounding countryside thanks to a £25million funding package. A further eight areas to receive funding include some of the most remote places in the UK, including Snowdonia and the North York Moors National Parks / ends
This is promising news. The cash is a fantastic reward for the hard work put into this project by B&NES' its partners. They've worked together as a "Bathscape" team led by Sarah Jackson.
It's pleasing the HLF has picked the Bath landscape to illustrate its story (though odd to see Bath listed as one of the UK's "largest cities". Perhaps they meant Bristol) . And it's nice to see Kelston Roundhill clear in the background of the photo.
The announcement does beg questions. Some people are dubious about the ethics of the Lottery – calling it a "tax on stupidity" – can ask whether good things can come from such money. Multi-disciplinary partnerships are often hard. There are clear risks of municipalistion when bureaucratic institutions fund projects in "unspoilt" rural landscapes. Remote places are sought after because they are just that. Bringing in vast numbers of urban dwellers to enjoy the remoteness defeats the point.
But the Bathscape team is broadly constituted, capable, well-advised and seems alert to these and other risks.
It's a two-stage funding process, with a scoping study first before the main bulk of resources are released. We really look forward to seeing how the project evolves, and we're standing by to chip in ideas.